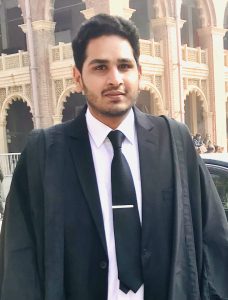 M.A (Political Science) B.A LL.B, M.A (Political Science) LL.M (UOL)
Contact No: +923215546556
Email: [email protected]
Experties
Managing Partner – SG Advocates & Legal Consultants
Education
Bachelor's of Law (The College of Law)

Masters in Political Science (University of Punjab)

Masters in Law LL.M (UOL)
Zeshan S. Ghumman is a driven, focused, and dedicated attorney who specialises in civil and criminal litigation. He is eager and passionate, and has the ability to interpret, prepare, and negotiate legal documents in such a way that everyone receives the best possible service. Mr. Ghumman has the capacity to communicate professionally and properly explain legal and commercial issues to laypeople. He has a strong commercial perspective when it comes to resolving legal challenges in the real world, and he is an expert in advising on new areas of law or modifications to the law. He also possesses outstanding teamwork abilities, a flexible and accommodating mindset, and a rigorous and detailed approach to legal topics.
Accomplishments
Successfully defended several preliminary injunction proceedings.
Obtain favorable settlements in 75% of cases.
Successfully Achieved to help Business start-up.
Successfully defended multiple criminal cases and civil cases.
Establishing what needs to be done to solve a client's legal problem.
Successfully reviewed legal documents to ensure they are in proper
format and contain all the necessary paperwork for court acceptance.
Successfully supporting clients across global sectors.
Successful in holding regular case works meetings and review with legal staff.
Successfully achieved in having multiple client's positive reviews.
Successfully provided services to international clients from all over the world.
Key skills and compentences
Sharing legal information, tips, and advice with work colleagues.
Excellent problem solving and solution finding skills.
Always respecting the differing needs, culture, and values of clients.
Drafting legal paperwork and material.
Positive, confident, and friendly demeanor with a high level of integrity.
Confident in presenting a decision-maker in both public and private organizations.
Develop and implement legal strategies for website content.
Counsel on laws and liabilities for music hosting, artist services, and news agencies.
Evaluate data involving assets, income, expenditures, and surpluses.
Structure Contracts and agreements with clients, vendors, and employees.
Determine applicable laws for issues such as real estate purchases and licensing.
Retained as outside counsel for companies and businesses.
Investigated complaints of retaliatory and discriminatory employment practices.
Present and summarize cases and appeals.
Drafting and amending complaints
LET'S GET STARTED
We're here to help answer your questions. Judicial matters can be complex, our experts are here to help inform you on every aspect of your topic. We are very proud to use our skills for you and look forward to hearing from you..