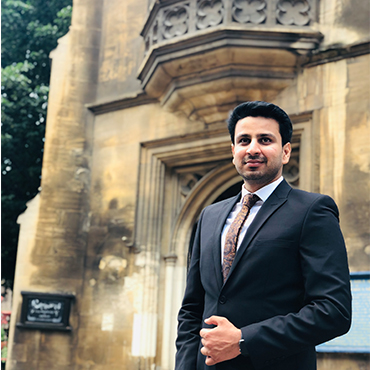 Professional Affiliations
Punjab Bar Council

Lahore High Court Bar Association

Lahore Bar Association

Gujranwala Bar Association

VP & Associate General Counsel – TechEngage

Lahore Tax Bar Association
Education
Master of Law (International Commercial Law) City University of London, UK

Master of Law (LL.M) University of Lahore, Pakistan

Master of Arts (International Relations)

Bachelor of Law (LL.B)

Bachelor of Computer Science (BSCS)
About Nouman S. Ghumman
Nouman S. Ghumman is the managing partner of SG Advocate & Legal Consultants, a leading reputable corporate law firm in the Pakistan. In his diverse practice, he had represented local and national businesses in matters involving commercial litigation and transactions; patent and trademark infringement; false advertising and deceptive business practices claims; constitutional and statutory interpretations.
Previously, he was Vice President and Associate General Counsel at TECHENGAGE, where he litigates a wide range of transactional matters in the technology, as well as select intellectual property, international, and cross-company strategic initiatives. Mr. Ghumman was also TECHENGAGE first newsroom lawyer, where he directed bet-the-company litigation and other high-risk decision-making.
Before TECHENGAGE, Mr. Ghumman was an associate at Akram Qureshi & Co., a leading law firm. He assisted in a wide variety of trial and appellate matters including cases involving Murder, Terrorism, Fraud, Kidnapping, Drugs Supply/Money Laundering, Rape, etc.
Nouman S. Ghumman is deeply committed to pro bono work, including regularly volunteering at legal clinics for poor people. Ghumman serves on his firm's pro bono committee.
Though main forte of Mr. Ghumman has remained law yet he has honed his skills equally in arts and science. Alongside having (national and international) degrees in law consisting of Master of law in International Commercial law from City University of London; Master of law from University of Lahore; and Bachelor of law (LL.B) from Quaid-e-Azam Law College; he also has done Master of Arts in International Relations from University of Sargodha and Bachelor of Science in Computer Science from University of Central Punjab.
LET'S GET STARTED
We're here to help answer your questions. Judicial matters can be complex, our experts are here to help inform you on every aspect of your topic. We are very proud to use our skills for you and look forward to hearing from you..